Vernon Ray Orndorff 1935-2013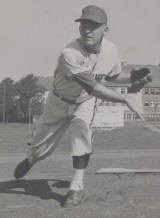 Vernon Ray Orndorff, 78, El Dorado, died Monday, October 14 at his home.
He was born on July 22, 1935 in El Dorado the son of Hubert and Mildred (Scribner) Orndorff. He graduated from El Dorado High School and received his Associate's Degree from Butler Community College. He had served in the US Army. Vernon worked as buyer for Boeing Aircraft for 10 years and then for David's Retail for 18 years buying auto parts. He was a member of El Dorado Baseball Hall of Fame; Wichita and Kansas Baseball Hall of Fame. He enjoyed spending time with guys that he met at McDonalds for coffee; but he especially loved to spend time with family.
On November 22, 1985, he married Janet Sheridan and they shared twenty years together. She preceded him in death on April 17, 2006.
Those who survive include his children Bobby Burns; Mike Burns; Kathy Burns; Richard Burns; Kyle Orndorff; a sister Patti Cost; and grandchildren Hayden Orndorff; Brynley Orndorff; and Emily Burns.
He was also preceded in death by his parents, a brother, Dick; and a sister, Nita McLean.
Memorials for his memory to the El Dorado Baseball Hall of Fame may be left with Carlson Funeral Home.
A Dominating Pitcher
There have been other no-hitters pitched by El Dorado High School pitchers, but probably none have been as dominating as the one by Vern Orndorff in the semi-finals of the Class AA-A Regional Tournament in 1953. Facing Council Grove at El Dorado's Central Park Stadium, Orndorff not only hurled a no-hitter, he struck out 14 of the 16 batters he faced. The other two men reached base on catcher's interference by younger brother (and fellow Hall of Famer) Dick. Dick threw out one of those runners trying to steal second. The game was shortened to 5 innings due to the run rule as El Dorado won 10-0.
Vern followed up that performance by throwing the final 7 2/3 innings of a 14 inning, 2-1 win over Garden City in the first round of the State Tournament also played in El Dorado. In that game, Orndorff fanned another 11 batters while walking none and allowing 3 hits.
A junior, Orndorff pitched 49 2/3 innings on the season, striking out 91 and walking 12. He allowed only 15 runs and 27 hits while compiling a 6-1 record. In fact, he didn't issue a base on balls to the last 84 batters he faced.
Click Here to read more about why Mr. Orndorff was inducted into the El Dorado Baseball Hall of Fame.