Tom Borland 1933-2013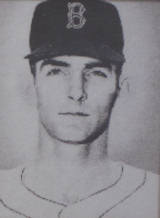 Stillwater NewsPress
March 5, 2013
Stillwater, OK
Tom Borland
Tom Borland, 80, passed away peacefully at his home on Saturday, March 2, 2013. A memorial service will be held at the First United Methodist Church at 1 p.m. Thursday. Strode Funeral Home is in charge of arrangements.
Tom was born in El Dorado, Kan., on Feb. 14, 1933. He moved with his family to McAlester at the age of four, and lived there until graduating high school. He was outstanding in all sports and was recruited by A&M College, along with 15 other major universities offering scholarships to play basketball and baseball. Baseball became his major sport and love. He became the second All American out of Oklahoma A&M, and still holds pitching records at the school. He was All American, All State, and Most Valuable Player at the 1955 College World Series. He is in the OSU Hall of Fame, and also in the Hall of Fame and Museum in El Dorado, Kan., the Hall of Fame in McAlester, and his name is in Cooperstown. Tom was signed with the Boston Red Sox and played one season before being drafted into the Army. After serving two years, he returned to professional ball until 1962. Tom then retired from baseball and moved to Stillwater, with his wife, Eileen. He started his own business, Pioneer Tire Center, and retired in 2001.
Mr. Borland was involved in coaching American Legion Baseball, worked with summer camps with the Fellowship of Christian Athletes, served as president of the high school booster club, and was a member of the Ambucs Business Club. He was a member of the First United Methodist Church. He also played in the senior citizens competitive baseball league.
Tom married Eileen Kroutil in June 1956 in Stillwater. He is survived by his wife, Eileen, and four children: Scott and his wife Filomena of New York, Jeff and his wife Beth of Plano, Texas, Victor and his wife Mona of Stillwater, and Jana and her husband Carey King of Stillwater. He is also survived by 12 grandchildren and two great-grandchildren.
Click Here to read more about why Mr. Borland was inducted into the El Dorado Baseball Hall of Fame.