Parry D. Owen 1948-2019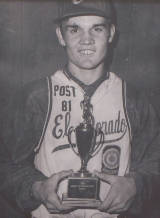 Carlson Funeral Home
2019
El Dorado, Kansas
Parry Owen
Parry's life began on September 9, 1948, the son of James and Gladys (Purkeypile) Owen in El Dorado, Kansas. He graduated Class of 1966 from El Dorado High and attended Wichita State University. He married Sandra "Sandi" Kay McLean on June 2, 1969, in Towanda. This coming June they would have celebrated their 50th Wedding Anniversary.
Parry was in a league of his own with record strike-outs, placed 4th in regionals, top pitcher and batter in 1966 in the State of Kansas, enjoyed bowling, played racquetball, rode motorcycles, loved his family and especially enjoyed his grandchildren. He worked for Beech as a computer operator and programmer and then for the past 26 years he owned and operated his own business "Simply Healthy".
His loving family includes his wife, Sandi of the home; daughter and her husband, Yevonne and Daniel Gorman of Towanda; son and his wife, Jeff and Yukari Owen of Kechi; siblings, Marviss Warren of El Dorado, Charlotte (Robert) Charles of Valley Center, Kathryn Blanck of Sioux Falls, South Dakota, Jim (Louise) Owen of Durand, Illinois; 13 grandchildren, Ellie (Shawn) Rinkenbaugh, Emilee, Edyn (Lukas) Weber, Elijah, Easton, Eagan, Edison, Eryanna, Eriden, Emberlyn, Christian, Leah, and Maddie Kay and one great-grandson, Ezra.
He was preceded in death by his parents, and a brother, Arliss Owen. Parry passed away into his heavenly home on Friday, January 4, 2019, having reached the age of 70 years old.
Click Here to read more about why Mr. Owen was inducted into the El Dorado Baseball Hall of Fame.