McDonald Stadium building to be renamed Oral Taylor Pavillion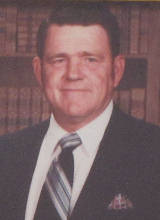 By Julie Clements
McDonald Stadium building to be renamed Oral Taylor Pavillion
Posted Jun 17, 2010 @ 06:00 PM
El Dorado, Kan. —
A building at McDonald Stadium will be renamed the Oral Taylor Pavillion during a ceremony at 11:30 Saturday morning.
The El Dorado City Commission gave its approval of the dedication of the building, which houses the umpires' room, the concession stand and ticket booth, during a special meeting Wednesday afternoon. The Recreation Advisory Board also had given their approval of placing the sign on the building.
"He has done a lot in baseball and our community," said Mayor Tom McKibban.
Taylor is the first person responsible for getting that building and the restroom/Hall of Fame building built. He also drew up the plans and got sales tax dollars and general fund dollars approved for approximately half of the cost. He raised additional money and got donations of materials and labor completed at no cost, and he served as general contractor on the project.
Another reason for the request was for all Taylor has done for baseball in El Dorado and the state. Among those activities, he coached the American Legion AAA team two times and took second in the State tournament in 1972.
He also was responsible for getting baseball started at Butler Community College. He went to Butler President Edwin Walbourn and inquired about starting baseball. Walbourn agreed to fund the team with a limited budget as long as Taylor would coach for free, which he did in 1977 and 1978.
What Taylor is best known for is being an umpire. He began umpiring for Jim McDonald in what was then the Central Park Stadium calling junior and senior league games in 1965. He went on to work high school games for about 20 years, including numerous State tournaments. He worked every junior college Sub-Regional from 1979 to 1994 and every Kansas American Legion State Tournament from 1979 to 1994. He also worked National Regionals and the American Legion World Series.
In addition to junior college ball, Taylor also worked games at the University of Kansas and Kansas State University and numerous games at Wichita State University, including the Missouri Valley Conference Tournament.
Taylor started working semi-pro baseball in 1971 and worked many NBC tournaments including being chosen by the coaches three times to work the championship game.
"I am very humbled," Taylor said. "Thank you."