Donald G. Prigmore 1932-2012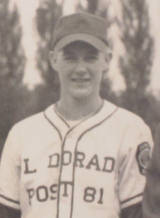 El Dorado Times
October 26. 2012
El Dorado, KS
Donald G. Prigmore
Donald G. Prigmore, 80, passed away at his home in Danville, Calif., on Oct. 23, 2012. He was the fourth son of Harry and Mary Prigmore of Leon. He was preceded in death by brother, Robert; his parents; and his wife, June. Surviving are: his son, Marc (Dianne) Prigmore of Kansas City, Mo.; daughters, Libby (Ralph) Rulo of Overland Park, Mary Catherine of Boston and Christine Prigmore of Charlotte, N.C.; and four grandchildren.
Don was born in rural Butler County and attended Haverhill Grade School prior to graduating from El Dorado High School in 1950. He was an excellent student and an outstanding baseball player. He was offered two opportunities upon graduation - a scholastic scholarship at Kansas State or an invitation to join the New York Yankee baseball organization. He chose the scholarship and played four years at shortstop for the K-State varsity baseball team. He graduated in 1955 with a Civil Engineering degree and then obtained a master's degree in corporate management from Michigan University. His entire working life was spent with General Telephone (GTE)/Spring Communications, where he rose from a right-of-way buyer to GTE National Plant Manager, Operating Vice President of GTE Indiana and GTE Southwest; President of GTE Michigan and GTE Southeast before becoming president of Sprint Communications where he retired.
Despite his numerous personal and corporate recognitions he was most proud of having been inducted into the El Dorado Baseball Hall of Fame in 2003. A private memorial service will be held. Memorial gifts may be made to the American Cancer Society.
Click Here to read more about why Mr. Prigmore was inducted into the El Dorado Baseball Hall of Fame.