Wichita baseball legend Daryl Spencer dies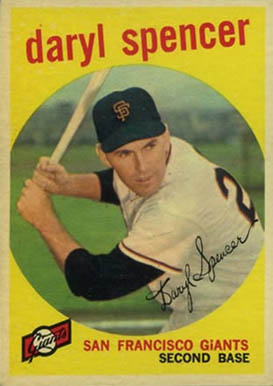 The Wichita Eagle
Eagle staff
January 2, 2017
Wichita, KS
Daryl Spencer
Wichitan Daryl Spencer, a former major-league ballplayer who was also a mainstay of the National Baseball Congress World Series, died Monday, according to his daughter. He was 88.
Spencer reached the major leagues at age 24, playing seven games for the 1952 New York Giants, and would be in the big leagues for 10 seasons.
Before he was inducted into the Kansas Sports Hall of Fame in 2004, he talked about his first day in the major leagues, walking into the Polo Grounds for the first time after being called up from Triple A.
"The rest of the guys I was with looked around for a minute and then went to the clubhouse," Spencer said. "I stood there for maybe five minutes and got tears in my eyes. And I thought even if I never played a game, I was here, where I dreamed of being."
He played all of the 1953 season with the Giants as their shortstop, then missed two seasons while in the military.
He returned to the Giants in 1956 and had his best seasons, hitting .265 in 1959 before being traded to the St. Louis Cardinals. He played two years in St. Louis before being traded to the Dodgers, where he played three seasons. He finished his career in 1963 with the Cincinnati Reds.
In all, Spencer hit .244 for his career with 105 home runs.
Spencer, who had played at East High and the University of Wichita, returned to Wichita and became a successful manager of the Coors of Kansas NBC World Series team based in El Dorado.
He is also an inductee into the Kansas Baseball Hall of Fame.
Mr. Spencer is survived by his wife, Eleanor; daughters Kari Sue Vosburgh of Wichita Karen (Brent Baker) Spencer of Newcastle, Okla.; and two granddaughters. Visitation is from 4-6 p.m. Wednesday at Downing & Lahey East Mortuary. The funeral is at 1 p.m. Thursday and Downing & Lahey East.
Read more here: Wichita baseball legend Daryl Spencer dies - The Wichita Eagle
Click Here to read more about why Mr. Spencer was inducted into the El Dorado Baseball Hall of Fame and Museum.