City OKs naming baseball field for EHS coach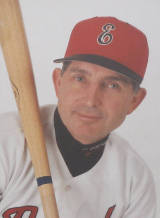 By Julie Clements
City OKs naming baseball field for EHS coach
Posted May 04, 2011 @ 09:29 AM
El Dorado, Kan. —
Plans are underway for a ceremony Monday to name the baseball field at McDonald Stadium after El Dorado High School baseball coach Brad Long.
The request was brought up at the El Dorado City Commission meeting Monday evening for the name change.
Commissioner Nick Badwey said he had been contacted about a month ago by some people about the change. Chris Locke was in attendance of the meeting to discuss the request.
They wanted to name the field while Long was still coaching at EHS and hoped to hold a ceremony during the last home baseball game Monday evening.
Long is a lifelong El Dorado resident. He himself played second base his sophomore, junior and senior years at EHS. He also played all three summers from 1964 to 1966 in El Dorado. After graduating from college, Long was hired to teach and coach at EHS, still coaching baseball 41 years later.
"As I understand it, he is the longest acting teacher/coach that has ever been in the El Dorado School System,